As an artist craftsman, I focus on creating beautiful objects, some, like my lamps and racing yachts, are supremely functional yet beautiful, others such as my jewellery, combine beauty with traditional craftsmanship .

My wooden Model Yachts are built with modern methods and materials, from current R/C Yacht designs, Vintage Model Yacht designs, or scale and semi-scale designs. My projects range from working models to static display to traditional half hulls mounted on wall plaques.

All models feature the beauty of wood and the appearance of traditional building methods with the benefit of modern adhesives and encapsulation techniques. This maximizes strength and durability while minimizing weight and maintenance.

My racing products offer a synthesis of wood with the latest in performance-enhancing elements. Yachts are equipped with carbon fiber rigs, mylar sails, and current foil design and molded fin construction.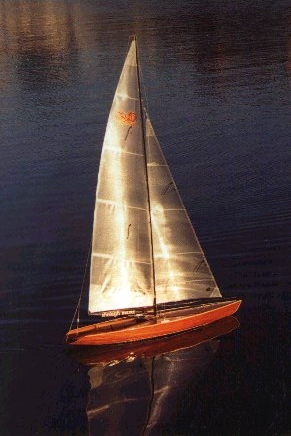 I also offer a variety of artifacts and services, primarily on a commission basis. I am constantly creating, so I have items available for purchase and to demonstrate the level of my work. There are some samples here. My work encompasses sculpture, gilded wood carvings, museum commissions, and jewellery in virtually all mediums. To better understand the scope of the work available, my portfolio is available for viewing.