Arcs
Murray Barber, BFA, is a model shipbuilder with over twenty-five years experience offering a full range of services, from fully-functional radio-control yachts, to display and half-models. He also creates "Arcs," self-contained wall or freestanding illuminated sculptural lighting units, objets d'art, jewellery, and a broad range of commissioned services to create the client's vision.
"Arcs" Description: Materials and process
Arcs, wall-hung or freestanding illuminated sculptural units, are an outgrowth of my long experience as a builder of wooden ship-models, as a craftsperson, and as an artist. The forms are a product of subtle design influences from many sources, as well as wood and paper's inherent structural and aesthetic qualities.
Traditional boat building techniques are used throughout. The frames are steam-bent and laminated of fir or spruce, joints are reinforced with epoxy fillets, and all wood is clear-coated with lacquer or varnish. Depending on the model, mahogany and laminated wood may be used for structure and trim.
The coverings are usually paper: either Japanese or Thai depending on availability and taste. This is coated both sides with an artist's acrylic matte medium, as this has proved to be the most effective for adding strength, lustre, and colourfastness to the paper.
Due to the flammability of wood and paper, safety is of critical concern. The internal fixtures incorporate a glass light-diffuser that acts as a heat shield, and careful design ensures that there are no trapped air pockets. With light bulbs limited to 40 watts each, the fixture remains cool even when continually lit.
"Arcs" Description: Model Varieties
There is a series of standard designs, which are all individually crafted on a limited production basis. Possible variations are the choice of paper, wood trim, and finishing treatments. Virtually any colour of stain, enamel, or faux gold silver, or copper leaf are available. All models are equipped with a 6' cord, plug, and on/off switch, and can be hard-wired directly to an electrical box.
Note: Full Arc lamps may be wall mounted vertically or horizontally.
Tori Gate Lamps may be shelf mounted or wall mounted in the vertical position.
"Arcs" Dimensions
Full Arc 18" w x 60" l x 11" d
End Arc 15" w x 22" l x 9" d
Mini Full Arc 15" w x 40" l x 9 d
Tori Gate 15" w x 26" l x 10 d
Mini Tori Gate 13" w x 18" l x 8" d
"Arcs" Description: Custom Design
Working with the client, many options are possible; cost will vary according to such options as may be selected.
"Arcs" Description: Maintenance and Warranty
Bulbs to be maximum 40 watt standard frosted.
Cleaning: No wet cleaning at all, no vacuuming. Only Dry Dusting.
The paper will puncture or tear if mishandled but can be repaired virtually invisibly using matching paper.
Manufacturing flaws or fixture problems repaired or replaced up to one year from purchase.
No warranty for damage due to mishandling. (NOTE: Paper is fragile but can be repaired)
Shipping company responsible for shipping damage.
For repairs, ship article to builder in original packing; shipping costs not covered.
"Arcs" Packing and Shipping
Packaging included in price.
Shipping, taxes and duty extra.
Product can be drop-shipped.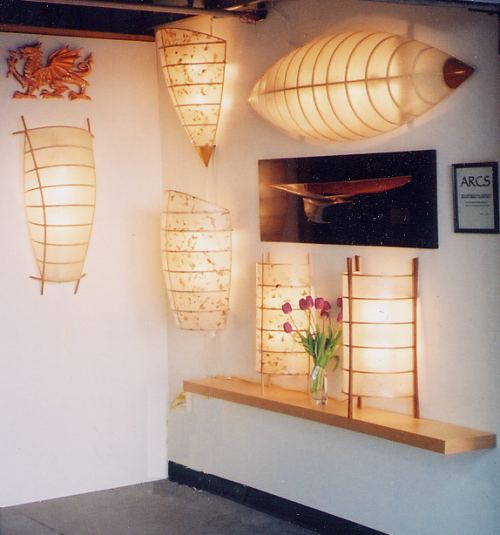 Showroom of Dragonworks, with the popular styles of lamps we produce on display.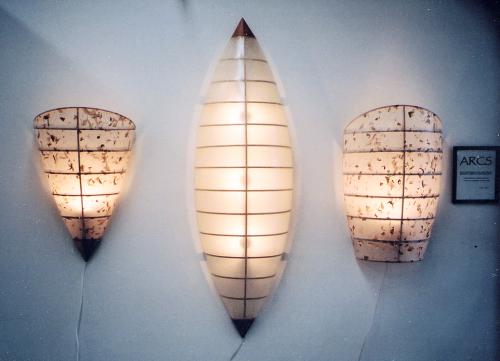 End Arc, Full Arc, Mid Arc